Riverton Creek - Love your local Park, …02/09/2023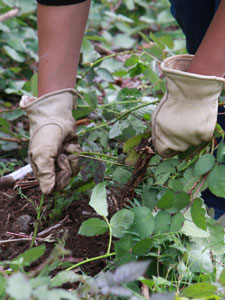 Activities
Join Forest Steward, Heidi Watters, for a mid-week work party at Cottonwood Corner. This small chunk of forest is nestled into a neighborhood and provides habit for songbirds, Cooper Hawks, bugs, caterpillars, and more. The site has everything from native plants to a small creek that runs through it. Over the years the site has been overtaken by invasive plants such as Himalayan blackberry, English ivy, and Morning Glory. The best way to remove these invasive plants is by hand, so we need you to come and help!

All tools, training and materials will be provided at the start of the work party.
Open to the public
All ages OK
5 out of 30 participants registered.
What to Bring
Bring a full water bottle, snacks for yourself, weather-appropriate clothes, and closed-toed shoes. If you have garden gloves please bring them
Where to Meet
Location: Riverton Creek – 37th Ave S and S 128th St., Tukwila, WA 98188

The site is a corner lot, gather by the JOBOX down in the site with the circle of log rounds.
Where to Park
Lots of street parking in the neighborhood and around the site.

Additional information:

If you have questions or concerns please contact Heidi Watters at heidiwatters@gmail.com or 206.679.8820